Bovet 19 Thirty with Fleurier case and blue dial - hands-on watch review
I adore fine timepieces, especially in the most elevated echelons of haute horologerie where the air is thin and few venture. A recent encounter with one of Bovet's latest creations has given me a reason to be cheerful.
The most elevated echelons of haute horologerie are a world of superbness where 'perfection', 'excellence' and 'heritage' are part of the lexicon typically employed. Indeed, it is this sphere of refined magnificence which has always elicited words of praise to freely leave my lips. Sadly, despite my being able to appreciate the peerless creation of a no-compromise timepiece, I am left downcast knowing my own limited fiscal means preclude the purchase of the finest exemplars of haute horlogerie. However, a recent encounter with one of Bovet's latest creations has given me a reason to be cheerful.
Bovet - an object of desire
Edouard Bovet was born in Fleurier (1797-1849) and founded his eponymous watch company in 1822. Today, the company produces high-end timepieces within the confines of Château de Môtiers, a 14th century castle near Fleurier in the Val-de-Travers region. The House is owned by the sartorially elegant Pascal Raffy, who also owns Dimier 1738, a Manufacture based in Tremelan, a verdant green area of the Bernese Jura. Dimier 1738 dovetails with Bovet 1822, manufacturing sumptuous timepieces which often combine complications, métiers d'art, noble metals and gem-set cases to spellbinding affect.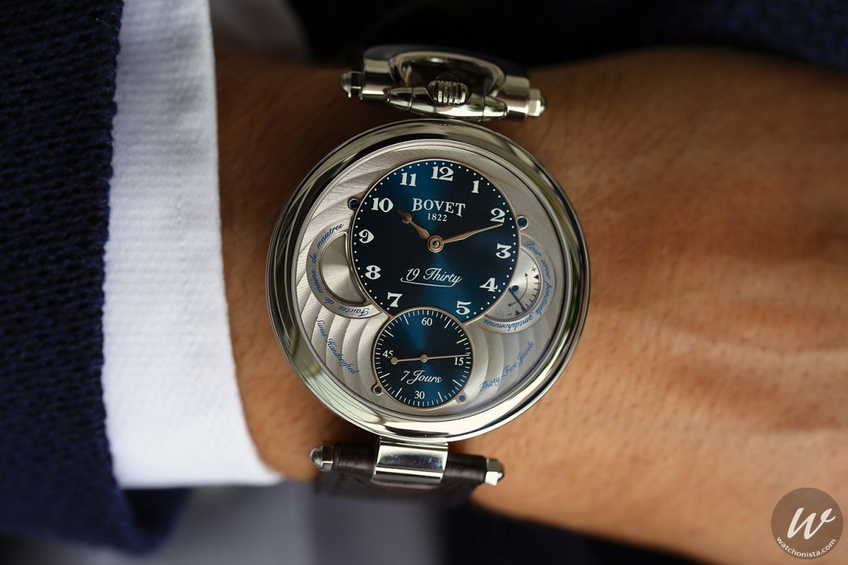 Bovet 19 Thirty "Fleurier" blue dial
A few years ago, I visited both sites, together with Manufacture de Cadrans in Plan-les-Ouates, Geneva, where the House manufacturesincredible dials. After my time with Bovet I was left profoundly impressed at the elegant pocket watches and wristwatches which come to life in the hands of skilled artisans.
Holding a Bovet evokes a mixture of emotions. On one hand, the skilful use of the engraver's burin bestows an exquisite permanence to be savoured forever. Conversely, there is sense of despondency on realising that such beauty is beyond my financial grasp and a union could never be consummated.
However, at last Bovet proffer a moment of lasting elation with a timepiece I can seriously consider acquiring. It was after hearing the comparatively modest asking price of CHF 16'800 (tax excl.) that I readily took delivery of the press sample and gleefully placed the timepiece upon my wrist for an extended period of evaluation.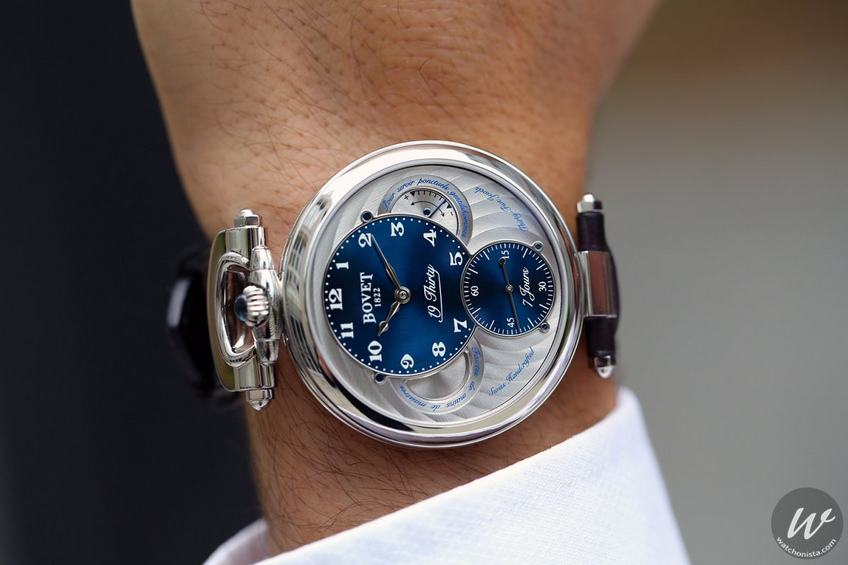 Bovet 19 Thirty "Fleurier" with the blue dial on the wrist
The dial
The dial area is a sea of deep blue, exhibiting a magical profundity which immediately beguiles on making its acquaintance for the first time. The blue circular brushed dial enchantingly toys with light, delivering alluring pockets of brilliance and shade. The two part construction of the dial consists of two circlets, interacting together and reminiscent of a venn diagram. The upper dial displays hours and minutes, whilst the lower dial displays small seconds and overlaps its larger neighbour. Each dial is outlined with gleaming brightwork and retained with blued screws.
With this modern-day Bovet timepiece, the Swiss House has referenced the 'Easel Chronometer'. In 1930, Albert Bovet, a descendent of Edouard, filed a patent for an ingenious device which allowed the pocket watch to be converted into a table clock, courtesy of a hinged section on the caseband. The Bovet 19 Thirty Fleurier eschews this inventive feature, but references the hands and Arabic numerals of the 1930 original. These dial elements exhibit grace whilst lucidly communicating with the wearer.
Adjacent the dials, circular Côtes de Genève occupies the visible underside of the mainplate. A statement found in Bovet's annals is 'Faictes de mains de maistres, pour servir ponctuels gentilshommes, ce par quoy attestons longue valeur'. This means, 'Made by the hand of masters, to serve punctual gentleman, which attest our core values'. Part of the motto frames two semi-circular apertures next to the aforementioned dials. Located in the easterly area of the dial is a power reserve indicator, succinctly reporting on the state of wind within the sole spring barrel.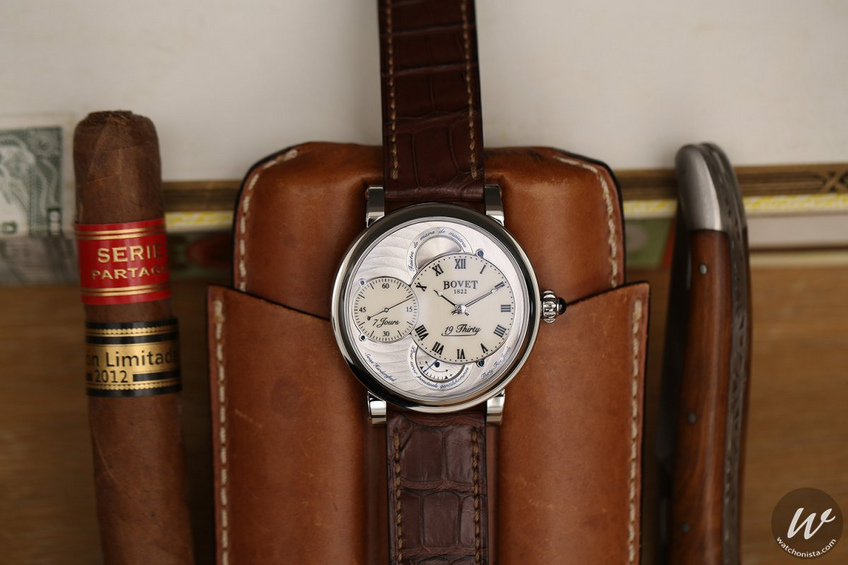 Bovet 19 Thirty with the Dimier case on the wrist
The case
Bovet has released two versions of the 19 Thirty. The 'Dimier' case sports a crown at 3 o'clock and includes four lugs, appearing relatively conventional. However, the focal point of this review is a model equipped with a 'Fleurier' case which looks decidedly different from the majority of watches available for sale. It fuses some of the design codes of pocket watches with the versatility of a wristwatch. Indeed, the House points out that it was around the 1930s when 'watches overwhelmingly migrated from pockets to wrists', citing this as another reason for selecting the model's nomen.
At first glance this timepiece may appear to feature the House'siconic Amadeo® system which allows the wristwatch to be transformed into a pocket watch or table clock. Unfortunately, this more accessibly priced timepiece lacks this charming facility but, nevertheless, loses none of its poised bearing. The crown, despite being positioned at noon, proves simple to operate and exudes luxury, courtesy of a blue cabochon adorning its form.
Unlike many of Bovet's more aristocratic offerings encased in noble metals, this timepiece is presented in stainless steel. However, would-be buyers should not worry, the highly polished metal could never be accused of being pedestrian and owners will certainly not feel shortchanged, this is a Bovet after all. The case is 42mm in diameter and has a thickness of 9.05mm, befitting the majority of potential male suitors.
The movement
The Calibre 15BM04 is hand-wound with a power reserve of 7 days, which is quite remarkable considering the movement contains only one spring barrel. As I admire the Manufacture movement I cannot fail to feel a deep respect for this historical maison. The finissage is incredible and few other brands can usurp the level of finish at this price point. Two large bridges dominate the movement, visible via the exhibition caseback. They are adorned with circular Côtes de Genève motif and tastefully engraved with golden text. The anglage is superb, necessitating the expert hand-application of suitable files in order to execute the intricate internal angles. The wheels are circular grained and the perlage on the mainplate is performed to a very high standard with the circular pearls uniformly overlapping each other.
Closing remarks
I throughly enjoyed my temporary possession of the Bovet 19 Thirty with Fleurier case and blue dial. I was sad to return this timepiece. The timepiece is comfortable to wear, simple to read, beautifully styled and imbued with a high quotient of craftsmanship.
By releasing this timepiece, Bovet has bequeathed cheer to legions of horological admirers who appreciate a fine timepiece. It provides a welcome new addition to Bovet's already impressive catalogue and I suspect the House will be inundated with orders from discerning souls.
By
Amr Sindi
,
Expert aka the Horophile
Because milestone timepieces don't necessarily have to be complicated: the Bovet 19 Thirty, bridging the past and present of watchmaking.
By
Marco Cattaneo
,
Journalist
The new Bovet 1822 timepiece was inspired by a pocket watch from the 1930s. It features a thousand little details and a fascinating interplay of symmetries.